Welcome to Core Progress Personal Training. I'm here to help you achieve your individual health & fitness goals by offering a bespoke and personal service on a 1:1 or 1:2 basis.
Me in a nutshell, for those who only have time to glance…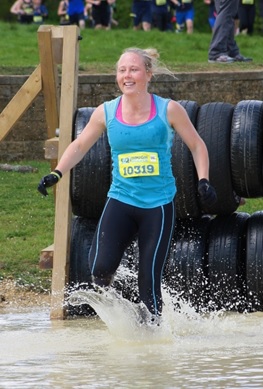 Sport & exercise mad with a competitive streak when it comes to racing
Adventurous, country girl
Love the great outdoors, particularly the beach on a windy day
Can't beat pie, mash and onion gravy on a cold, wet day…every cloud!
Scariest thing I've ever done…bungee jump in Canada, NEVER again
Live by the motto 'Life is too short to be anything but happy'
Always eat peanut butter with a dessert spoon and not ashamed!
Caffeine sends me loopy
Sport has played a massive part of my life for the last 25 years, both recreationally and competitively. Most recently specialising in running and triathlon achieving World Championship qualifying standards (before having babies!). I have experienced the highs and lows of training, ridden the waves of emotions, overcome injury, all to achieve my own personal goals. My experience means I know what a truly satisfying feeling it is to work towards and achieve a personal target, no matter how big or small.
Following two traumatic births (I am yet to meet a mum without a birthing story!) I am a mum of two boys and things have changed. I can now empathise with prenatal women experiencing pregnancy discomforts from heartburn to pelvic pain and back ache, and fully understand that fuzzy new-born haze when life passes you by in the blink of an eye. I also know about the hormone changes that catch you by surprise, the endless broken nights' sleep, the exhaustion and elation rolled into one. I'm proud to be mum, to me is it the best job in the world, the most challenging and one that's most likely to make you a little crazy!
Clawing back your fitness can seem like a mountain to climb, especially post-birth, but exercise really will give you that physical and mental boost, that spring in your step and aid that all important postnatal recovery. With all my knowledge and experience I'm here to provide the support, motivation and (let's not forget!) the exercises to get you fit and strong through functional training whatever your fitness level or goals.
Testimonials
Couch to 5k – January 2018
'Thanks, Clare. I really enjoyed it, and so pleased that I could actually do it!  Great motivation, lovely group'
Carole
'Just to say THANKS! That was fab and I think that signing up to this was one of the best decisions I've made'
Simone
Couldn't have asked for any more from Clare, whilst on her 'Couch to 5k' programme. I started out not being able to run for 2 minutes and now I'm able to run 5k and further, and what's more…. enjoy it! Clare runs as fast as the slowest person in the group/team which is great and with her encouragement we've made it. I'm so pleased with my personal progress. I'll be signing up to her private training sessions to further improve my fitness. Highly recommend Clare and Core Progress Personal Training!!
Laura
Group Circuit Training for the White Horse Harriers Running Club – December 2017

'A well planned & executed circuit that ensured all 24 participants worked hard whilst enjoying themselves. Brilliant session. Thanks to Clare'
Terry
Clare tailored the session to suit everyone, for those coming back from injury to ultra-marathon runners. I'd highly recommend Clare; her own results speak for themselves. Her passion and enthusiasm to help others achieve their goals really shines through. I can't wait for the next session'
Fran
Great circuits session, everything was clearly explained and a good variety of exercises with both regressions and progressions offered. Nice one Clare'
Tom
Personal Training – 2018

After struggling to get back into regular exercise post-babies, booking a block of PT sessions with Clare is the best decision I've made! Absolutely loving it and don't want it to end! Hard workouts (just what I need/wanted), but good chat to get me through and there's always a surprise thrown in! Thank you Clare! Roll on next week.
Kirsty
I couldn't recommend Clare highly enough. She is attentive, quick to adapt the training as needed, knowledgeable and thorough. She has pushed me beyond what I thought I could achieve but I felt safe in her hands at all times. I started the programme with an old injury which improved hugely under her methods. I have lost weight, lost inches and got stronger and fitter. Delighted!

Jackie
Postnatal/Core Rehabilitation – 2018

Had an amazing fun time with Clare, whilst also working out. Despite babies being a long time ago, I found my core was stopping me progressing with my exercise. Clare took me from the basic physio care I had received previously to get my functioning and has enabled to me to look at the next level; taking time to understand my particular issues and made a great program for me.

Jacqueline
I had a postnatal block of 5 sessions with Clare plus a consultation. Clare was amazing from the start. Her consultation really helped me recognise areas I was letting myself down in diet and hydration and she had practical advice on how to improve things simply and easily. Though Clare is obviously very fit and healthy, she's down to earth and I could speak honestly to her and she was professional and non-judgemental which is so important in a PT.
Then the postnatal exercise sessions were a lot of fun! My main aim was to build core strength after the birth of my baby and she created a program which did just that. She clearly explained each exercise so I knew not only how to do it but also why it will help me. Her knowledge on the muscles layers and what exercises that are needed to engage each one is fantastic. I really couldn't ask for more. I will be back again!
Bethan
Product Offering
My purpose-built strength and conditioning studio creates the ideal environment to train hard and smart using a wide range of free weights and functional equipment.
View the photo gallery HERE

Availability
Sessions offered 6 days a week, weekdays, evenings and weekends. Find a session time to suit you*
| | | | |
| --- | --- | --- | --- |
| Monday Evening | 6.30 pm | 7.30 pm |  8.30 pm |
| Tuesday – All Day | 9.15 am | until | 3.00 pm |
| Wednesday Evening   | 6.30 pm | 7.30 pm |  8.30 pm |
| Thursday – All Day | 9.15 am | until | 3.00 pm |
| Friday Evening         | 5.30 pm | 6.30 pm | 7.30 pm |
| | | | |
*Session times may vary and are subject to availability.