YES, I've now found a gem of a company who offer stylish maternity fitness clothes for active & sporty prenatal ladies. Shop now & save with my exclusive discount!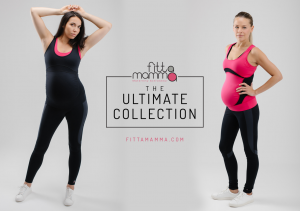 What makes this activewear so special?
Staying active during your pregnancy has so many benefits for you AND your baby but many women are discouraged from exercising simply because they don't feel comfortable working out in 'pre-pregnancy' fitness wear.
In the same way that you would expect to support your breasts, ensuring your baby bump is secure and supported when you exercise will improve your comfort, confidence and motivation.
The FittaMamma range of maternity fitness wear has been uniquely designed to meet and support the changes to your body as your baby develops.
Super-flattering the clothes actively support your bump, back and breasts, combining attention to detail with oodles of style.  High elastane content ensures the clothes continue to fit as the pregnancy progresses and regain their shape to look good after your baby is born too.
Choose the luxe, high-performance fabrics of the 'Ultimate' range or the soft, elastane-rich cotton of their standard range.  Both offer a high level of support and comfort across a full range of pregnancy exercise and fitness disciplines.
Recommended for gym workouts or exercise classes
Both the FittaMamma 'High Support' Pregnancy Exercise top and the 'Ultimate Maternity Sportswear' top provide maximum support, lifting the weight of the bump onto your back and shoulders, improving posture and making any activity more comfortable throughout pregnancy and after the birth.   Stylish and flattering, these tops work like a sports bra for your bump and are also ideal for mums-to-be with backache, pelvic girdle pain or if they're carrying twins.
Top choice for yoga
I love the 'Om Baby' workout support top or choose the soft and comfortable 'Pregnancy Yoga' top which has been designed with a longer length to ensure it doesn't ride up when you reach up.  The Ultimate range looks fantastic in the yoga studio too.
Team the tops with leggings for optimum performance
FittaMamma's fully opaque and super-stretchy maternity exercise leggings come with a lovely wide support panel that fits right over the bump or rolls down underneath and supports your lower back as well as your baby belly.  Available in full length, a flattering three quarter length Capri or as loose yoga pants.  'Ultimate' leggings feature mesh panels for added breathability and a useful key inner pocket for keys and cards.
FittaMamma says, 'Most women find our clothes so supportive and comfortable they rapidly become everyday favourites, not just for exercise. And because they don't look like maternity clothes they are ideal as exercise or leisurewear after the baby is born too.'
View the full range at www.fittamamma.com Prices start at £24.99.
Please get in touch to claim your discount code; clare@coreprogress.co.uk